In the US, your choices are to go to a full-service boatyard or a DIY (do it yourself) boatyard.  Before you decide, it's important to create the list of projects that need to be accomplished while the boat is out of the water.  Are these projects you'd like to do yourself?  Or do you mind paying a professional to do all the work?  Check the prices, even full-service boatyard pricing can vary wildly!
If your list contains several items you could do yourself, but one major item that you really don't want to do — for instance, our list was bottom paint which we would prefer not to do ourselves, replacing the stuffing in the stuffing boxes, removing and replacing the depth sounder & speed transducers through the bottom of the boat, redoing the saillocker varnish, etc.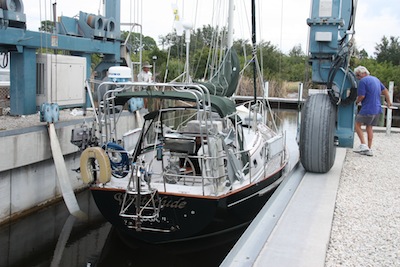 The bottom paint was the only project we really didn't want to do ourselves.  Most DIY yards have a list of contractors willing and usually more than capable of doing these types of projects.  If you ask at the boatyard office, they'll usually give recommendations, also you can get recommendations from other cruisers, which is what we did.
Another reason for us picking a DIY (do it yourself) boatyard was because we could stay aboard while we were having the bottom redone by an outside contractor and getting our "out of the water" projects completed.  Staying aboard is not always popular because it's not the most convenient way of life.  However, that doesn't mean it doesn't have advantages.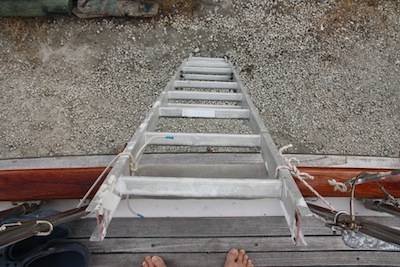 The chief advantage for us (besides avoiding $100 plus a night for a hotel room, especially when who knows how many nights – 26 so far) is that we're there.    If you've ever had work done on your house, or boat, you know that contractors simply do not always show up when they say they're going to show up.  So if we're not living aboard, we'll might miss getting to talk to them.   And since the bottom project has turned into more of a challenge than anticipated, we like being around when Mike just happens to stop by to check the hull with the moisture meter.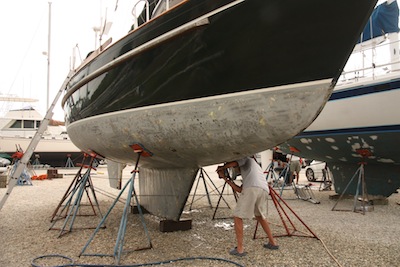 Plus by being here all the time, we're motivated to get our projects done … the sooner we can get back in the water, the better.  If we were staying at a nice relaxing hotel, we would not arrive back at the boat as early and we wouldn't be here as long … and who knows, we might even decide to skip a day or two here or there just for fun.  Especially when you're in the stage where nothing seems to be going right and the projects are getting mired further and further down in the money pit.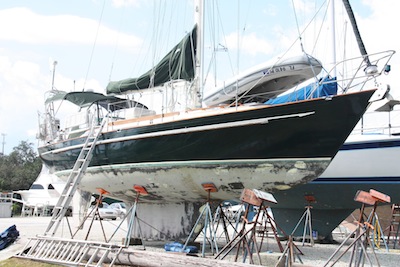 Some things to think about before selecting a boatyard!
1.  Do your research before picking a boatyard.  We visited our two top choices by vehicle before making a final decision – if you have that luxury, be sure to take the time to do it!     If not, ask around – other cruisers are probably your best source of information – call the boatyard and ask about their policies, facilities and rates.  Find out if they're experienced in doing the type of work you need done and ask for references if it's a big job such as re-doing your awlgrip hull paint or something of that magnitude.
2.   If you're thinking of a DIY yard and staying aboard, make sure they have adequate live-aboard facilities.  If you're going to be out of your comfort zone climbing up and down that ladder a gazillion times a day, may as well pick a boatyard that's as good as it gets.    At Charlotte Harbor Boat Storage, we have a screened in porch "clubhouse" overlooking the dock and canal – including several picnic tables, two showers and restrooms, a bunch of microwaves, crockpots and a community use refrigerator for meals, plus plates, bowls, utensils.   There's also a washer and dryer, wifi, a computer and a television — all the comforts of home.   All they ask is that you leave it cleaner than you found it and it seems to be working.  The "luxuries" are basic but adequate and very much appreciated!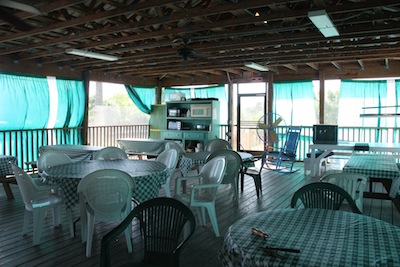 3.  Check to see how clean the yard looks – is everything covered with an inch of dust/particles and slime?  If so, you may not be able to keep any hatches or portholes open for air without being overcome with dust and particles floating in the air.  We were lucky – Charlotte Harbor Boat Storage is by far the cleanest boatyard we've ever lived aboard – they require simple things like the use of a vacuum attachment anytime you're drilling, sanding, grinding etc, which really cuts down on the grit and grime everywhere.  Plus they require a tarp (supplied) be under the boat while sanding/grinding/etc. to catch any stray dust/fiberglass/wood shavings, whatever.   And everything has to be picked up every night — the tarps must be carried to the dumpster and emptied, not a perfect system, but it sure seems to be working!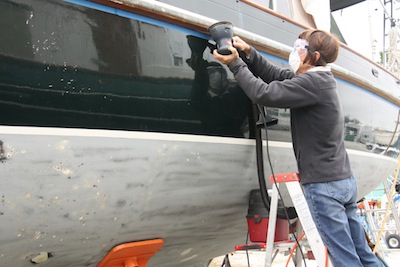 Do you have a boatyard you particularly like?  Please leave a comment and let us know — also, let us know what you like & dislike about it.  Cheers!   Jan & David