Cruising friendships are special, especially when you buddy boat together for several months!  When we found out our friend, Doug, on s/v Serendipity was visiting the panhandle coast, it took us a snap of the fingers to decide to take a quick side trip.  Since Serendipity is in the Rio Dulce, we haven't seen Doug since we sailed from Panama to Roatan in the Bay Islands of Honduras specifically to attend his birthday party in November 2009.
We had a great get together, he introduced us places along the panhandle coast that look like possibilities for cruising someday.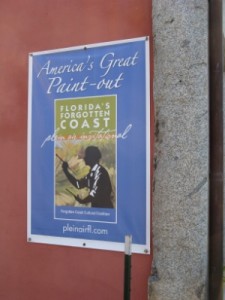 After saying goodbye for now to Doug (we'll see him again, you always see good cruising friends again, even when sometimes it doesn't seem possible), we had a day to kill before visiting my Dad so we meandered along Florida's "Forgotten Coastline" — otherwise attractively known as "The Armpit".   We drive Hwy 98 from the Florida/Alabama state line down to Apalachicola where other cruising friends had a great time.
We wandered the streets and had lunch at a great little dive called "Boss Oyster" – this is our kind of quaint fishing town.  We enjoyed a leisurely lunch sitting on the deck overlooking the docks and the Apalachicola River, we let our minds wander on the cruising possibilities.  The boats we crossed the Gulf Stream with to the Exumas are from this area and they swear if we've never cruised it, we don't know what we're missing.  The little barrier islands fringed in sand beaches – mostly state parks with little development – might provide enchanting anchorages and now we're wondering if we haven't missed something!
Fishing is the main attraction, and the town features lots of cute little shops and artsy fun.  Here are a few other photos from our day!  After our "detour" to handle an unexpected situation that calls us back to the Midwest for a few days, we'll be back aboard & have more "returning to the boat" fun!  It's always intriguing to imagine what we'll find this year … keeping our fingers crossed that our luck (and lots of cleaning) remains and there are no bugs or other issues … well, aside from the fact that our water heater has been on vacation for a year or more now…  maybe we'll fix that this winter … after I add coats of varnish to the teak and add a coat of wax to the topsides & hull and … and… and…   the lists always go on & on!  🙂
If you've cruised the "forgotten coast" in the armpit and panhandle of Florida, please leave a comment & share and let us know what we shouldn't miss!