One of the key concepts in successfully living aboard a small boat is personal space.  Everyone needs their own time and space.  One of the things that makes it easy for us is that David always respects when I need time "alone" – time to write, edit my photos, or whatever — and he's off in the dinghy in search of someone to go spearfishing with him.  Success in alone space is more due to being considerate to the other person's needs than actually being alone.
Having said that, we're all individuals with different interests and different "alone" needs.  Think about how you'll create this aboard your boat.  Mostly it starts with what you enjoy … gardening?  reading? photography? fishing? hiking? snorkeling? games? being social?   Think in terms of what you enjoy before you move aboard and then think about how it can translate.
I like to write, take & edit photos, kayak and explore.   David loves suduku, reading, spearfishing and socializing.  Both of us love being in the water, hiking, exploring, interacting with locals and learning about local culture and generally being together.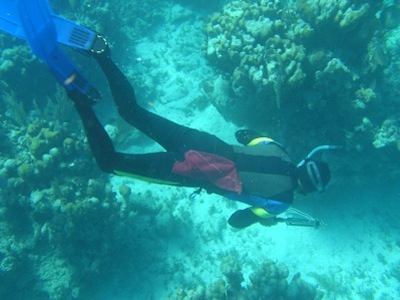 Luckily both of us enjoy snorkeling as our favorite cruising activity. Both of us want to stay in the water — there was a point where we were literally spending 3-4 hours a day floating around.  But both of us have different reasons — David is a spearfisherman and loves the hunt.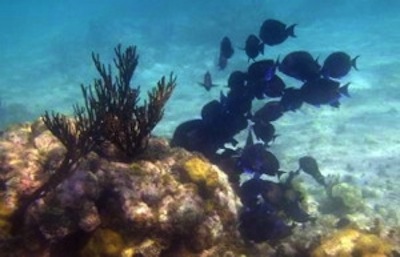 I love taking my waterproof camera and getting underwater photos.  After a few years even taking photos of the same colorful tropical fishies got dull, so I added a game – trying to find a new species that I had never previously photographed.  At first I thought there'd be no way I'd find anything new, but underwater life is amazing – especially the little stuff!  The only thing that drove us out of the water was blue lips and chattering teeth, despite the warm tropical waters and our lightweight wetsuits.
You may have other passions, don't plan on giving them up just because you live on a boat.  Even gardening can be accomplished, albeit on a different scale — I know many boaters who have built special racks to contain pots of fresh herbs or other plants – some of them live in the cockpit, others are moveable so they can reside securely below on passage and relocate to the deck at anchor.  Be creative, figure out how to incorporate your passion into your boating lifestyle.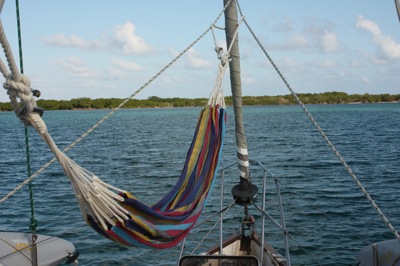 Hammock – we both like time alone in the hammock, whether it's quiet time watching falling stars or a great place to snuggle up with a good book.   We added a double hammock for those times when we both want to lay in the hammock and watch the falling stars or full moon.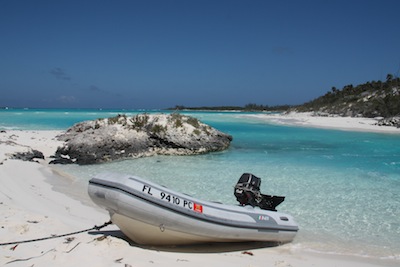 When all else fails, you can take the dinghy somewhere just to stroll a beach alone.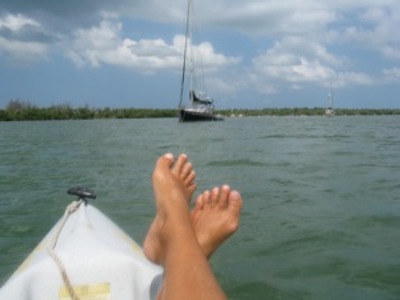 In our case, the kayaks often accomplish this purpose instead of the dinghy.  Kayaking always restores my sense of humor.  And a kayak adventure to a nearby deserted island can let me stroll the beach, look for shells, or just be alone.  That's not to say some our best kayak adventures have been together, paddling up remote jungle rivers in search of a trail rumored to lead to a waterfall splashing into that perfect pool of clear water, inviting us for a chilly refreshing dip.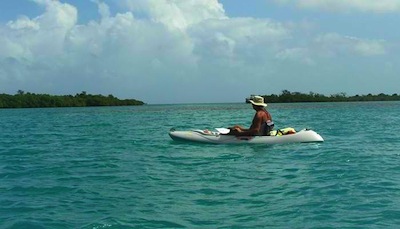 If your alone time includes some special "stuff" … a sewing machine, a space for making beads or jewelry, space for yoga, kitesurfing equipment, photography equipment, whatever it is, make sure to incorporate it into your boatstyle/lifestyle.  You'll be happier and happy people make for a happy boat!  Don't think because you live in a 37′ space (or whatever) you have to do everything together!  As I add photos to this post, David's reading the autopilot manual trying to diagnose why our autopilot is giving us weird error messages (probably has something to do with the fact that we spent hours working on other stuff in the same lazarette while on the hard a few days ago — that operator error problem again!).
I'm probably not the best person to write a post on creating own space, because neither of us require much of our own space, generally we enjoy doing most things together.  I know it's a concern for many cruisers just starting out.  If you have more to add, PLEASE do!  Do you have special "alone" interests?  How do you incorporate them into your boatstyle?  Please leave a comment and share so we can all learn!