If you're only interested in downloading our 3 month provisioning spreadsheet showing specifics of everything we're taking, skip the text and scroll down to the PDF link.  Otherwise, read on!
UPDATE AFTER THE EXUMAS CRUISE:   What did we run short on?    Click here to read my "Oh NO, Out of Beer!  What Else Did We Run Short On?" post.  

The first time we left Florida for the Northwest Caribbean, I loaded my boat full of every conceivable just add water mix, canned goods and toilet paper.  But I discovered that people everywhere eat … clean their houses and takes showers or baths!  The differences may be cultural, but the opportunities for discovering new foods and products are everywhere!  What an adventure.  This time, T minus 4 days, we'll do it a bit differently.  Because we know that everything is expensive in the Bahamas (some say double the prices) we will take more paper products than I would if I were returning to the Western Caribbean.
The first post on this subject, Step 1:  Provisioning for 3 Months discussed the "pre-steps" necessary before we can start actually sinking the waterline  The first step is a complete inventory.
The next step is to pre-plan the duration of the voyage — in this case 3 months, 12 weeks,  90 breakfasts, 90 lunches and 90 dinners, plus snacks and beverages.  Since we plan to eat locally for three meals a week, that's really only 48 dinners but planning for 90 gives us a big margin for weather delays or other unknown factors.  Then we come up with a list of things we enjoy eating for each meal and choose several.   Now I can make 2 grocery lists — one staples and one perishables.
We've already made 2 trips to the grocery and spent $400 so far to provision staples, not including the 3 cases of wine (Two Buck Chuck is a wonderful thing – despite the crowd on Florida opening day!).   Now all we have left is some "refill" staples and the fresh stuff.  We'll be back aboard the evening of  Monday, March 4, I plan to do the fresh provisioning Tuesday, March 5 & David's going to fix our freshwater overboard problem, then we'll be waiting on the weather to settle.
Click here to download a PDF of my simplified 5 page spreadsheet showing what I have aboard.
This simplified spreadsheet lists everything on my grocery list with quantities and how many I have aboard and how many still to purchase.  It's based on our 3 month cruising expectation and assumes we'll be able to eat fresh fish a few nights a week and locally some other nights.
Keep in mind, after fresh provisioning, if we have weather delays before we leave the dock, I always like to keep a list of everything we've consumed so I can top off by replacing the consumed stuff just before we actually leave.  It's already looking marginal to leave before last next week because of two strong cold fronts creating 7-11 foot waves in the gulf stream — why leave when we'll just get beat up, we get beat up enough when we start off in perfect weather!
One of the biggest problems I have in provisioning is buying enough.  It's so hard for me to imagine that we'll actually need 16 cans of diced tomatoes.  Standing in the store, taking can after can off the shelves, I feel like a BIG PIG!  But I've learned the hard way if I decide at the last minute that 10 cans would be enough, I end up paying much much more later to get whatever I need locally while cruising.
Reviewing the major provisioning categories, these comments don't replace the actual quantites of what we're taking that's on the downloadable PDF above, just some additional commentary:
Baking – while you can buy flour and sugar almost anywhere, if you use special flours, like my oatmeal flour or buckwheat flour or whole wheat, better stock up.   Also stock up on specialty sweeteners if you use them – David likes agave nectar.
Bread & Crackers — bread won't last in the tropics, so only buy enough for a week or two max.  Crackers will last several months if you repackage them in freezer baggies, removing and discarding the cardboard.
Cereal — I eat oatmeal and David likes raisin bran almost every morning.  So we have 8 boxes of Raisin Bran and 3 cartons of oatmeal.  I make my oatmeal with apple juice and not milk or water, so we'll have to remember to add apple juice to the drinks section.  As with everything, the minute it comes aboard, it's repackaged, both for space and also to get rid of cardboard.   So far, the biggest challenge for breakfast is to find David no fat boxed milk for his cereal …  he would prefer to use the silk almond milk that he likes here, but after testing a box, I have no idea what the manufacturer was thinking — it was AWFUL!  So be sure to test anything from different type of packaging before buying 10 cartons, even here in the US – just because it has the exact same label doesn't mean it will taste the same…. or even be edible!
Cleaning Supplies — living in the Western Caribbean for 6 years taught me that I can clean just about anything with bleach or white vinegar.  No fancy cleaning products needed – saves us lots of money!  But we do provision Joy, dish sponges, Tide and Bounce, plus trash bags – while they're available, the quality is generally inferior and I HATE having a bag of garbage break open while I'm carrying it to the trash bin!  🙁
Condiments — Mayo is usually available, so I only stock up on 2 plastic squeeze bottles, but we stock up on simply fruit jam, real horseradish (to make cocktail sauce for all that shrimp I'll be eating!), wasabe, dill relish, extra virgin olive oil and Tamari (our favorite style of soy sauce).
Fruit — mainly unsweetened applesauce to fill in between fresh produce markets, but also a can or two of misc fruit.  We count on getting fresh fruit along the way since it doesn't keep longer than a week or two.
Health & Beauty — we take a 3 month supply of whatever we regularly use, from toothpaste to deodorant to vitamins.  Don't forget the sunscreen and bug spray – they may be available in beach resort areas, but the price will be astronomical!
Canned Meat — we make delicious meals from our canned meats – our selection is generally turkey and chicken, with some salmon and packets of tuna thrown in.   When The Boat Galley Cookbook comes out, there's an entire chapter devoted to making delicious meals that you actually can enjoy entirely out of cans!
Meat – Fresh — since we don't eat as much meat as we did in prior lives, we'll fill our little freezer with boneless skinless chicken breasts, boneless smoked pork chops and the rest of the room for Morningstar (vegetarian) sausage, black bean burgers and asian burgers (great with stir fry!).
Misc — don't forget stuff like distilled water (although our Trojan T105 batteries are happy with watermaker water too), fire starters – our stove doesn't "light" anymore and neither does our grill, and extra canisters of camping propane – we use at least one every other week, sometimes one a week.
Packets — be careful here, they don't last well in the tropics and you can make your own mixtures if you have an assortment of spices.
Paper Products – yes, we'll take toilet paper and paper towels, plus as many freezer baggies as I can fit aboard!  You can never have enough baggies – quart, gallon and two gallon size.
Rice & Pasta — both are readily available most places, but we like a special brown rice medley from Trader Joe's as well as whole wheat pasta, so we stock up.
Snacks — Important for happy hour and VERY expensive outside of the US.  Be sure to try local brands – one package first to see if they're good!
Soups — We don't use soup, so I'm just stocking a couple cans of chicken noodle soup in case anyone gets the flu and vegetable stock (lots since I use it in place of olive oil to "saute")
Spices — Why not stock every spice you can possibly need?
Canned Veggies – very conceivable variety from okra to zucchini and speaking every variety – beans from chick peas to dark red kidney beans — note that for longer cruises, we would have dried beans as well as canned beans, but I like not having to cook the beans so long if we're only going to be gone 3 months – there's plenty of space for cans of beans and they're easier.
Fresh Veggies – we buy less of fragile veggies such as lettuce and much much more of hardy veggies such as acorn squash, cabbage, potatoes, onions etc.  Those in between such as zucchini and squash, we'll buy mid-range and hope they last.  We have a refrigerator and a cooler side which stays about 40 degrees which is great for keeping quantities of fresh veggies.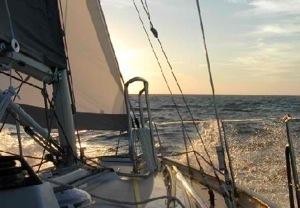 So there you have it.  I haven't provisioned for an extended cruise for almost 2 years, so it'll be interesting to see what I forgot!  But on the other hand, stuff is available in the Bahamas, just more expensive, so hopefully we won't starve!   🙂  Anyone have ideas of what I forgot BEFORE we leave which should be sometime this week depending on when the weather settles a bit.  Leave a comment & let me know before it's too late!!! (David will thank you!)  Cheers!  Jan