When we bought Winterlude the bottom drawer was crammed full of every User's Manual under the sun — or at least all the stuff aboard.   Since there were only 3 drawers in the galley,  I objected strenuously, so David filled the bottom drawer with tools instead.  Not sure I won that battle!
In the meantime, we had a BIG pile of User's Manuals piled on the quarterberth.    Random order, a total mess, I could never find one when we needed to reference it.  So we bought 4 oversize file binders, similar to these at Amazon, and I set to work categorizing and sorting all the manuals.  Then I made tabs for each User Manual and put the manual in it's slot.   The project took a total of 4 oversize filing binders, plus a separate binder for everything diesel and another for everything watermaker.
These days, almost the entire starboard side bookshelf is filled with the file binders – and with all the changes and updates we've made to the boat, the binders have become totally random in order and a huge mess.  One of my rainy day projects in the near future is to reorganize and redo the binders.   They've become very dog-earred from overuse, so maybe I'll even get a bit crazy and replace them entirely.   …. or maybe not….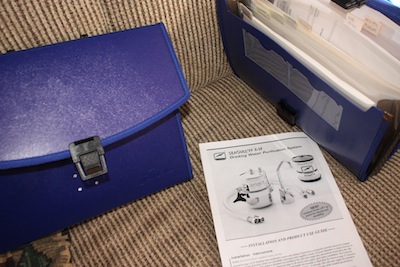 The good news is that almost every time we need to access information on whatever system it might be, pickling the watermaker, replacing the joker valve in the head, you name it, we have a User Manual for it.    And I can usually find it quickly.
One of the best additions we made to the boat was the User Manual File Binders — I know, that's about the most boring project in the world — why do you think mine haven't been redone yet after 11 years — but it's also one of the most useful!
How do you organize your User Manuals to keep everything handy?  Since I need to reorganize mine again, if someone has a better idea, I'm all ears!   Please leave a comment and share!   THANKS!  Jan