I really really really wanted varnish on our teak.  In the past we've always had a pro do our teak — unfortunately always with cetol, cetol light and gloss, depending on what happened to be available wherever we happened to be in the Caribbean.  When we returned to the US for our "mini-refit" – we decided that with all the expensive projects going on, we really couldn't afford to redo the teak again.
We have wonderful teak aboard our 1985 Passport 37 – it's a shame not to make it look as fabulous as it's capable of looking.  Only one problem, I didn't want to spend time that I should be enjoying cruising sanding and varnishing.  But while we were stuck at the dock for the mini-refit anyway,  I discovered some things about myself, about varnish, about our boat and more…
Before I started CommuterCruiser.com, I had a personal blog called www.SailWinterlude.com — the blog chronicled our "fun" and cruising for family and friends.  It also chronicled my initial decision to plunge into varnish…   If you'd like to read the original teak commentary – some of it has step by step instructions on certain aspects of the project, link to the Winterlude Refit Blog — here are are the appropriate posts!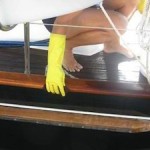 I love my newly varnished teak.   I know everyone says I'll have more maintenance to keep it looking good, but after our first season of cruising, we've fixed the teak measles from the parts we didn't do the first year and added 2 coats of varnish … plus spent a winter cruising southwest Florida, the Keys and the Exumas … so far so good.  We return after the Annapolis boat show in October, so I'll let you know how it goes!   🙂
I always had to add 2 coats of cetol gloss every six months to keep it looking good, so so far, varnish isn't any more trouble … and I love the look!
So do you opt for varnish or another less maintenance teak treatment?  Leave a comment and share!   Cheers!  Jan