We tried everything ….  but our little Caribe 8′ roll-up dinghy would never plane.   Since we were getting ready to leave to cruise the Yucatan, Belize and the Rio Dulce, Guatemala, we were frustrated.    We were looking forward to some great snorkeling and exploring, but the range of how much we could explore depended on a "fast" (it's a relative term with an 8′ dinghy….) dinghy.
We didn't plan on keeping the little roll-up dinghy forever so despite the fact that it was rated for a maximum of 6 hp, we bought a brand new 8 hp Tohatsu 2 stroke outboard.  Our new Tohatsu 8 hp had more than enough power to plane off a dinghy that weighed somewhere 100 pounds.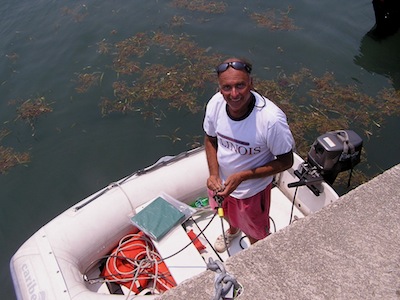 Problem was, it wouldn't.  It didn't matter who was in the dinghy – one of us or two of us – the dinghy would not plane — if you're unfamiliar with the term, it's when there's enough power that the bow comes up and the entire boat levels out on top of the water creating minimum drag resistance and the propeller in the water pushing the boat along.   If it doesn't plane, it's pushing the boat through the water (i.e. SLOW) not maximizing it's potential and speed on top the water.
We researched online, talked to everyone at the marina that would talk to us, talked to the prior owner of the dinghy who assured us he had a 6 hp outboard and it would plane just fine.  Aaaarrrgggg ….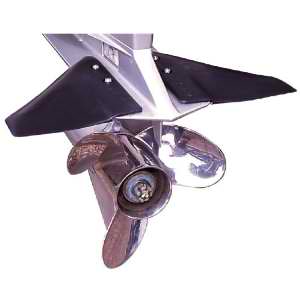 Local marine stores assured us that Doel Fins on the outboard would solve the problem.   So we added the Doel Fins by Davis to our trusty Tohatsu.  According to Davis – the "faster out of the water" and "maintain lower planing speeds" seemed just the right idea.
Doel-Fin improves overall performance – even on boats with well designed hulls
Save up to 30% on fuel consumption
Faster out-of-the-hole for happier water skiers and wake boarders.
Maintain lower planning speeds
Simple 15 minute installation (hardware included)
But nope, the dinghy still wouldn't plane, it was better and faster, but still wouldn't jump up on a plane.   (NOTE:  once we found the REAL problem, the doel-fins helped our little dinghy keep up with bigger dinghies and we still have them on our Tohatsu 12 years later!)
Of course, everyone we talked to had a different opinion on what the problem was … although everyone agreed the dinghy should plane.
Someone said we weren't sitting far enough forward, that getting our weight forward would help the dinghy jump up on a plane.  So we added a tiller extension.   Nope, all that did was get us wetter.  And a wet dinghy ride makes no one happy!  Especially if you happen to have newly washed & dried laundry (we've since learned to make sure the clean dry laundry is in a heavy black leaf type trash bag whenever it's in the dinghy).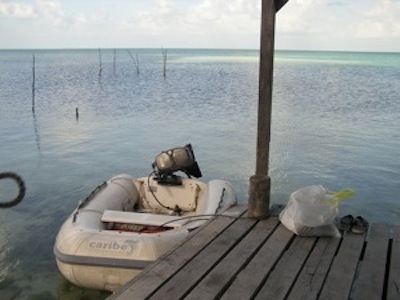 In desparation, I posted a plea of frustration on the internet bulletin board hosted by Cruising World magazine – the original CWBB which is now hosted by SailboatOwners.com and is the CSBB — Cruising Sailors Bulletin Board.

Luckily for us, and for all of us, Stephan Lance from Defender Industries, which according to their website is the largest single location inflatable boats dealer in North America, with over 2000 boats and motors in stock, is happy to share his in depth knowledge of dinghy issues.  It's been too long and I don't remember all the questions, but I do remember his main concern —
"The tubes don't have enough air."
What?  Of course they do, what a silly idea.  The oversized tubes in that 8′ Caribe were pumped as full as we could get them with the Caribe footpump!   They were rigid, they didn't have wrinkles, they were firm to sit on, what was he thinking?
But NOTHING else had worked and despite our skepticism, Stephan sent us a new air double action hand pump explaining that the old foot pump included with our older Caribe was not capable of inflating the dinghy enough to make it plane.  ????   So now our biggest concern is that we were going to explode the only dinghy we had, even if it wouldn't plane…
So we drug the dinghy up onto the dock, and we pumped, and pumped, and pumped.  Every time we thought it was too much, we pumped some more.   Then we put it back in the water and David skeptically pulled the rip-cord.  OH MY GOSH!   It was like a BRAND NEW dinghy!  It jumped right up on a plane and zoomed around – we had to quickly pull back the throttle because, of course, the marina is a no wake zone.  We puttered out into Charlotte Harbor and tried it again – VOILA — ZOOM ZOOM ZOOM!
Stephan was RIGHT — what a simple stupid thing after the months of frustration trying to get this dinghy "fixed".   Simply adding AIR to the inflatable chambers made it plane!  WooHoo!   We felt rather stupid, but very happy.  And for the next few years, every time we used that dinghy to zip around to new snorkeling reefs, spearfishing locations or simply to town — which would have been long wet rides without our "new" planing dinghy, we thought of Stephan and now nice it was for him to help us.  Especially since the dinghy was a used one bought from a friend, and not from Defender.
Guess what else … now anytime we can, we buy what we need from Defender.  New Waeco Cold Machine condenser … Defender; new blocks…. Defender … miscellaneous parts …. Defender!   They usually have the best prices and great service.   They also are often willing to do the research to find parts we need for our older, not so new systems, just contact Customer Service and tell them what you're looking for.   Amazing.
So the answer to our dinghy won't plane problem was to inflate the tubes more.  NOW, do NOT get the idea to go buy a fancy electric pump and just keep on pumping because I cannot imagine the tubes won't explode. BUT by paying close attention to how much air the tubes require and make SURE they're absolutely rigid and full, your dinghy may plane easier too!   I'm always amazed at the dinghies at dinghy docks that have wrinkle sagging tubes — perhaps they have slow leaks, but it's impossible to get maximum performance out of wrinkly soft tubes.
Anyone have different experiences or have a good hand pump recommendation?  I can't find ours online anymore so I can't show which one it was!  It was tall and red and a double action hand air pump.   Please leave a comment and share!   Cheers — Jan