As anyone who knows me knows, I am not the world's best baker.  In fact, more of my attempts have ended up as leaden anchor weights than edible.   David is always willing to try anything I make, but the leaden bread is just not one of his favorites!  🙂  So imagine his surprise when my attempt at English Muffin Bread turned out to be not only edible, but have a similar texture to "real" english muffins!  This recipe is from the over 800 recipes featured in  The Boat Galley Cookbook.   If you have a boat, be sure to check out the cookbook on Amazon.   Or for more information, click here.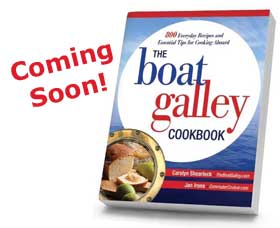 English Muffin Bread is so easy, especially on a boat!   No kneading, no big mess, no hassle.  Step by step instructions:
Total Time:  1 1/2 hours (if it takes 45 minutes for the bread to rise to double – could be less if it's warm in the boat!)
Prep Time:  10 minutes
Bake Time:  35 minutes
Ingredients:
2 1/2 teaspoons yeast (1 packet) – must be FRESH to get the big holes and texture
1/2 tablespoon sugar
1 teaspoon salt
1 teaspoon baking powder
2 1/2 cups white flour – you can use up to 1/2 wheat flour which is what I did, but all wheat flour didn't produce the right consistency
1 cup milk
1/2 cup water
cornmeal & cooking spray
1.  Mix the yeast, sugar, salt, baking powder and half the flour in a large bowl.  Add milk and water (warmed to 110 degrees if the temperature is cool).   Stir until thoroughly mixed.  Add the remaining flour and just stir in – do not knead!
2.  Grease or spray a loaf pan.  If you have cornmeal, sprinkle a bit in the bottom of the pan and shake to coat sides and bottom if desired.
3.  Pour the batter in the pan. Cover and place in a warm spot to rise until doubled.  Time will vary considerably, but 45 minutes is a good guesstimate and that's what it took for mine.
4.  Preheat the oven to 375 degrees.
5.  Bake for 35 minutes or until golden.
Let it cool at least a few minutes before cutting.  Serve warm.  This is also great cut into slices and toasted to get the extra crunch that a "real" english muffin has.  Spread with grape jelly and YUM!
BTW, as you may or may not know, David and I are on a pretty much fat free diet for his heart.  Did you know that regular white flour has 0 (yes, that's ZERO) fat and my whole wheat pastry flour has a half gram. So as near as I can tell, the only fat in this recipe is from my 1/2 wheat pastry flour (which is 1 1/4 cups) and the cooking spray.  I'm guesstimating this bread has about 1 gram of fat per slice which is acceptable for us.  Obviously if you're on a carb diet, it's not so good!  🙂
I love it when a treat turns out to be not bad for the heart diet!  Of course, we don't slather it with butter, in fact we use no butter and only a bit of Smuckers Simply Fruit Grape Jelly – which also has 0 fat!   Yum yum!
Do you have an english muffin recipe that you love?  If you try this one,  leave a comment and let us know what you thought!  Cheers!  Jan