Gasoline quality outside the USA is notoriously inconsistent.  Buying gas from a little ramshackle dock in Port Royal, Roatan – the only place around with available gas – we found out the hard way just how inconsistent it can be!   The condensation in that gasoline left our outboard putt-putting until it simply died and we "enjoyed" some unexpected exercise rowing back to the boat.
Fortunately or unfortunately, we were "stuck" in Guanaja waiting on weather to round the corner and go south to Panama.  There would be many anchorages along the way where our dinghy would be our only option for transportation and it simply had to work.
Bonaca Town, Guanaja is a tiny  fishing village built on stilts – looks a bit like Venice with all the canals.   David was determined to add an in-line fuel filter to our outboard, but where to find one?
Unfortunately Bonaca Town has no Ace Hardware or Do-It Center.   But they do have a large shrimp fishing fleet and we wandered all over town asking questions, being directed to first one "shop" in the front room of someone's house and then another.  Finally we found a small marine shop that had a Sea Choice Inline Fuel Filter— just like this one…  Pay dirt!   Of course it cost several times what it should have, but we bought it, installed it by cutting the fuel hose and putting the ends into each end of the hose.  David clamped it in place with seizing wire because that's what we had.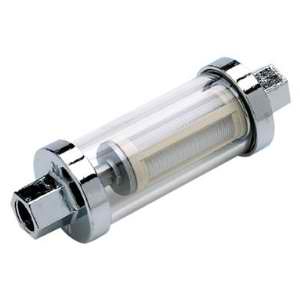 After cleaning the filter inside the outboard and with the addition of the inline filter, our outboard fuel related issues totally went away!  Well, at least until several years later when the inline fuel filter we bought in Guanaja literally fell apart and we replaced it with one very similar.  I'm sure there are better inline outboard filters, but at the time, in isolated Bonaca Town, Guanaja, we were happy happy happy to find this one in a dusty corner of a "marine" parts store.   (BTW, always always ask for what you need, there's a good chance it's stuck in an out of the way corner and you'll never find it if you don't ask!)
Anyone else using a better system to filter your dinghy gas?    Leave a comment and share!  Cheers!  Jan