After having our Mustang Inflatable harness suspenders for 10 years, we decided we were probably overdue for replacing the inflatable cartridge.  Since they were an older model, we asked at the Mustang booth at the Annapolis Boat Show about which re-arm kit we needed.    We were somewhat shocked to find out that ours were so old that Mustang no longer sold the type of re-arm kit that works for our life vests.   Turns out they did us a favor, but …
SOAPBOX WARNING!  If you don't want to listen to me whine, stop now!
Planned obsolescence?   It's expensive to equip a cruising sailboat, so why is it lots of overpriced marine stuff is  outdated almost immediately?  Last year I was on a roll whining about Garmin & not being able to get Bahamas updated charts for our Garmin GPSMap 176C, this year it's these dang inflatable Mustang life jackets.
Maybe I'm being unreasonable, but it seems to me that something that costs over $200 each should last  — especially  when only used for very short periods of time and always stored indoors out of the UV.  We only used them for bluewater or overnight passages, and usually only at night unless the weather was different than the forecast.   If high quality life vests were made to last longer, then why wouldn't they continue to make re-arm kits available for those models?   I guess we could have done without them and worn our kayak PFD's overnight, but they're much bulkier and the inflatables are more comfortable for extended periods of time aboard.
I know PFD's need to be replaced every few years – and for normal marine use, that makes sense.   Our "regular" life jackets get replaced more often, but they're used continually and deteriorate much quicker… they also don't cost the same as the Mustang suspenders.
Of course, I complained to the good Mustang folks in the boat show booth, but they told us before we did anything to go back to the boat and blow the vests up manually to make sure they still held air.   STILL HELD AIR???   Why WOULDN'T something that cost over $200, treated humanely, never exposed to extended UV, hung in the dry wetlocker when not in use, not stuffed in a damp lazarette…  still hold air?
So back at the boat, using the manual inflation tubes, we blew up the inflatable life vests and waited.  Sure enough an hour later, mine was definitely losing air.  David's held air just fine.  So I would have drowned and David might have survived, but only if he could have blown it up manually because we're not sure the auto-inflation kits would have worked.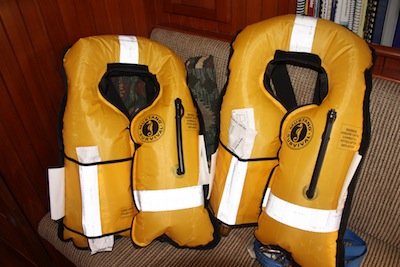 Needless to say, we're replacing our Mustang inflatable life vests.  And needless to say, even though it may be the same with every manufacturer, the new ones will not be Mustang, I don't care if they are the premier brand.   It's just the principle.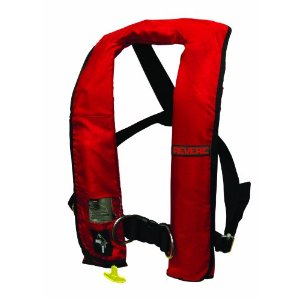 P.S.  We ordered new Revere PDF's with harnesses built in based on Practical Sailors testing a few years ago.  They're very comfortable and we'll see if they last longer or allow us to buy re-arm kits a few years from now.
So please tell me it's just me and that I'm crazy and need to get a new outlook….   or maybe the entire marine industry needs to rethink things like not updating charts on chips that fit a few year old GPS or making life preservers durable enough that they will still hold air …. what, will my expensive Avon life raft not hold air either?  After all, there was no place to get it "factory authorized" re-certified while we were cruising outside the USA.  Grumble….