Cruising statistics show that even the most adventurous cruisers spend 90% of their time at anchor.   90% of the time at anchor means investing in making the interior of your boat your home, will enhance your cruising experiences.  When you step onto and into the boat, you need to relax and feel as though you've come home from whatever the day's adventures held.
As discussed in the first post on How To Live On A Boat, however you live at home on land is how you'll be most comfortable living at home on the water.  Obviously there are some sacrifices, but think through the little things.   You're not likely to add a dishwasher or washer/dryer to the boat, but there are other considerations that make life aboard much more homey …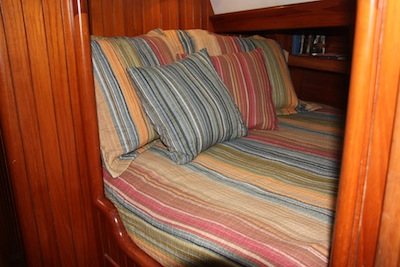 1.  A good night's sleep is important.  Where will you sleep aboard?  You'd never think about leaving a 3″ worn foam mattress on your bed at home, you'd replace it with a "real" mattress immediately.   And likely, like us, that "real" mattress set won't be inexpensive – last time we upgraded our home mattress, we replaced our king size bed with a Tempur-Pedic memory foam mattress.  So when we moved aboard the boat for six months a year, we replaced the existing boat mattresses with real mattresses.  In our case, a custom mattress from Handcraft Mattress, but others are probably equally as good.  I can honestly say that we sleep just as well, or better, aboard as we do at home.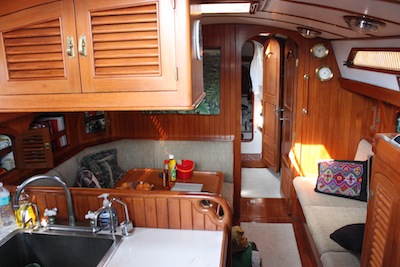 2.  All boats have some "boat smell", especially when closed up for a period of months.  If the boat smell doesn't go away after you've been aboard and had the boat opened up for a few days, it may have permeated the upholstery and cushions.  If your favorite lounge chair in the living room at home smelled every time you sat down, you'd replace it. After you've eliminated other sources of boat smells such as replacing sanitation hoses and keeping the bilge clean, you may need to consider replacing not only the upholstery in the main salon, but also the cushions.  We renovated the entire salon to make it ours … versus bright mid-80's fashion turquoise velvet … and we've never regretted it after the initial gulp when we found out the cost.   Ten years later, I'm still glad we upgraded and amazingly enough, it's still in good shape.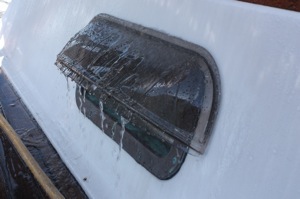 3.  Ventilation is also critical to enjoying life aboard.  You may or may not have air conditioning, but usually at anchor, the breeze is so pleasant that it's unnecessary, even in the deep south tropics.   What IS necessary is good ventilation.  Cross ventilation is key.   We have a solar fan sucking the air out one dorade while open hatches, portholes and hatches let air in.  Make sure you have adequate screens for every opening port and hatch.  You may want to invest in new screens if they're torn and tattered or if somehow your boat didn't come with screens.  We had porthole screens which we still use years later, but no hatch or companionway screens.  We added both.   Also think through how you'll get ventilation during the often torrential tropical rains.  We added a canvas cover that attaches close above the hatch tops so we can leave hatches open in most rains and also our favorite new addition, the PortVisors from Seaworthy Goods to allow keeping the portholes open during a rain.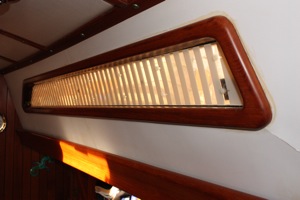 4.  All the little touches that make your land home your special place are also vital to a boat.  Below you can see the canvas wall painting we commissioned from Jennifer on the Rio Dulce – she's a great artist & combined three of my favorite Rio Dulce rainforest photos into one painting.
We also love our Peek-A-Boo Blinds — until the past year, we didn't spend much time in marinas, however the blinds provide a great sense of privacy when we did happen to be at a dock – particularly if it's one where gawkers stroll down the docks to enjoy the boats.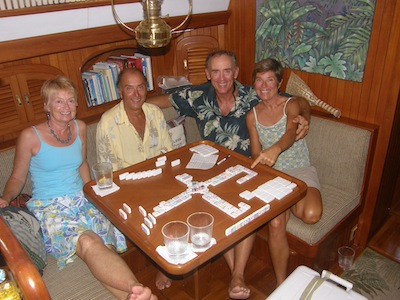 5.  A home is usually full of family, friends and fun.  Don't overlook games, books, music, hobbies, etc.  Again, whatever you enjoy at home on land will likely be what you'll enjoy aboard.  We have a variety of games aboard – usually those that take little space – for example, we took our Yahtzee out of it's box and it lives in a baggie – just the dice, cup and scorepads don't take much space at all!
We didn't have a TV for years, but occasionally watched movies on the laptop.  Other boats have extensive movie libraries and watch a movie about every night – for them, investing in a larger TV screen made sense.  Some even invested in a swing bracket so they can watch from different locations. Others, like me, have hobbies – mine are writing, photography, hiking, kayaking, sailing, etc.   Others sew, garden, knit, make things for grandkids  or whatever.
Watch for Friday's post on Creating Your Own "Space" on a Boat.
And whatever you decide to personalize your lifestyle into your "boatstyle", just make sure you give turning your boat into your home as much consideration as you would at home in a land-based house.  Anyone else have ideas to help turn a boat into a home?  Please leave a comment and share!   Cheers — Jan