Before we went cruising we ate beans once a year at our annual Y Flyer (one design sailboat racing) Riviera Regatta where it was (and is) tradition for David, my husband, to cook ham and beans in a huge cast irons pot over an open fire.  Yum, they were good, but beans just weren't something we cooked.
Then we left the US to go cruising the Western Caribbean for six months at a time over six years.  I listened to all the "experts" and packed my boat with lots of beans — an infinite variety — chickpeas, dark red kidney beans, black beans, navy beans, lentils … you name it, we had bags, usually bought out of barrels in Fronteras/Rio Dulce, Guatemala.    At the end of our six month cruise, we still had bags and bags of dried beans.
I used them aboard – whenever it was cool and since we have no heat, I wanted to heat up the cabin.  As you can imagine in the true tropics, that wasn't very often!
When we got back to the US and started cruising to the Keys and the Bahamas, I changed strategy.  These days we eat beans alot since David was diagnosed with a 90% blocked artery… our low fat diet with a minimum of meat or fowl begs for more protein and beans are a convenient, tasty and nutritious source!
So when we were provisioning for three months in the Bahamas, I made a strategic decision.  No dried beans.  Every time we'd pass the beans/rice aisle in the grocery store, David would pick up at least one package of beans and say "aren't you going to buy beans"?  I think he thought I was going to starve him, though we rarely ate the dried beans onboard … even when we were starving in the San Blas Islands of Panama.
But canned beans?  Absolutely.  I thought we'd go through gazillions of cans of every variety available.  Reality was we returned with dozens of cans of beans despite eating them at least once a week for a main dish and several times a week for snacks.   Rice and Beans is a staple aboard as are Black Bean, Corn and Tomato Salad, Corn and Black Bean Salsa and my favorite, Red Pepper Garlic Hummus (no tahini).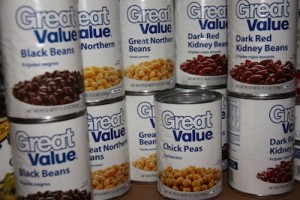 So which is better for cruisers?  Canned beans have disadvantages of taking up space with heavy cans, much more sodium than if you cook them yourself and they cost a bit more than a bag of dried beans.  On the other side, canned beans use less propane to cook and make far less heat in the cabin when it's hot hot hot!   Dried beans are significantly less expensive and take far less space to store, but more propane to cook and are just not convenient, at least for me.
Do you provision beans?  If so, do you prefer dried or canned and why?  Please leave a comment and share!  Cheers!   Jan