Whew, Black Friday & Cyber Monday are finally history!  Now we can think about the upcoming holiday season.  While we were actually out cruising, we celebrated with our tiny Christmas tree, nativity scene, decorations and special meals with special friends, plus a small present bought locally — if we were anywhere that we could buy a present locally.  Now that we're back in the US with grandkids, presents are part of our tradition again.
Think small but incredibly useful!  Cruisers typically don't have much space aboard.  and if they're flying back to the boat after the holidays, luggage space is at a premium with all the boat parts they're likely to be lugging along.  Here are some ideas.
Stocking Stuffer Ideas for Cruisers  Nine of our favorite stocking stuffers!   Keep in mind, that every one of these ideas is tested and stamped with the seal of approval aboard Winterlude.  We don't recommend stuff we don't use.
10 Cruisers Christmas Gifts Under $110   Ten more tested ideas, some practical, some just plain fun or even romantic – what's more romantic than a hammock hanging on the foredeck under a starry starry cruising night?
8 More Christmas Gift Ideas for Cruisers  These are larger and range from David's new power tools to my Keurig Coffee Maker (which BTW, takes a couple of amps per cup of coffee and runs off our 1700 watt inverter just fine).
My Favorite Wine Glasses Aboard.  For a wine enthusiast, what could be better than some new wine glasses.   Here are nine of our best suggestions.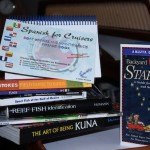 Book lovers – I still love to hold books in my hands – except fiction of course, which I'll gladly read on my Kindle Paperwhite.  Here are the 10 Most Dog-Earred Books aboard Winterlude, not including technical how to boat stuff books.
Or for new cruisers thinking of leaving the dock…  an adequate library aboard providing information about boat systems is critical (4 Books We Can't Live Without) because as Captain Ron says "if it's going to happen, it's going to happen out there"!  Nigel Calder and others provide illustrated step by step instructions on fixing onboard systems.
Avid fisherperson aboard?  How about a new Fish Fillet Knife – here are tips on how to select the best one.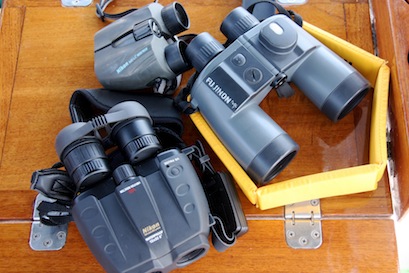 Binoculars are great gifts, especially the little waterproof variety that can double as fun in the dinghy/kayaks or navigation duty.   Which Binoculars Are Best.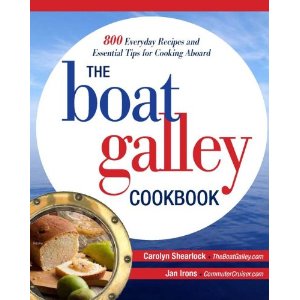 And don't forget The Boat Galley Cookbook, a shameless plug for our own book!  It makes a great Christmas gift.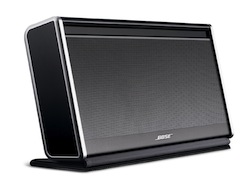 What's on my Christmas List this year?  It's beyond the scope of Christmas, but the next time I can squirrel away enough extra cash, this little sound system will replace the century's old sound system that's currently aboard.    Bose SoundLink Bluetooth Mobile Speaker – goes anywhere and the rechargeable battery plays up to 8 hours.  We have a friend with one of these and the sound is amazing.
Whatever you get for gifts, just be sure and remember that the best gift is cherished time together.
Anyone have other items on their wish list for Christmas of interest to cruisers?  Please leave a comment and share!Cheers!  Jan