If you're thinking of staying aboard your boat while on the hard in a boatyard, think through how your life will change and be prepared!  Be sure to do your homework ahead of time so you know that there are at least basic amenities – a restroom and shower, preferably with HOT water and water pressure, although that's not an absolute requirement.   We've lived aboard in more than a few boatyards and some are much better than others!
First of all, you'll be climbing up and down that ladder multiple times daily!  And I am convinced that a substantial number of accidents that happen in boatyards include falls from boarding ladders.  So first of all, some ladder safety tips!
1.  First thing!  Be sure to tie the ladder securely to the boat at the top.  This eliminates the potential for a bobble half way up to cause the ladder to fall backward!  We simply take some line and tie the sides of the ladder to stanchions on either side of our open gate.
2.  The old adage "one hand for the boat, one hand for YOU" is most applicable when climbing up and down that ladder!  NEVER NEVER NEVER have something in both hands.  Make sure that one hand is completely free to climb the ladder.
3.  If you have larger, heavier  or just bulky stuff to bring aboard, rig a line to below – we usually keep ours in the cockpit.  If we need to load groceries or a case of beer or soda, we put them in the cooler, rig a "bridle" to Y to either side of the handle and pull the cooler up and over the rail rather than trying to bring it up the ladder.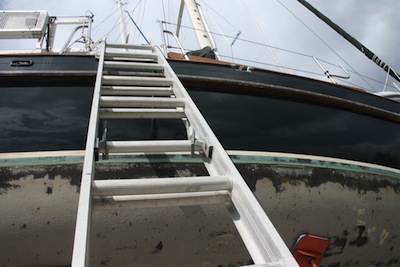 Beyond the ladder:
A.  We can use our water aboard – to make coffee and such – but we rarely use the sink because the water will drain out below, not good for the yard and not good on our boat bottom we're trying to get to dry out!  And, we go to the "clubhouse" for showers daily — if you're thinking of staying aboard, check in advance to make sure the boatyard had showers and live-aboard amenities.
B.  We have electricity and thank goodness because it's been really cool at nights.  We use an electric blanket on the bed to stay warm at night since we don't have "real" boat heat and would never leave our space heater running while we're sleeping.   Electricity is also very handy to recharge all our power tools on an ongoing basis — especially the drill, dremel and sander!
C.  We cannot use the head since there's no water to pump it into the holding tank.  Besides our holding tank seacock leaks just a bit which is one of the projects we're fixing.  Anyway, don't count on being able to use your head even if you're willing to dump fresh water in to flush, there's no pumpout and if you happen to be in the yard longer than your holding tank is capable of holding, you're literally "up a creek".
D. This brings us to the subject of nights….   we sleep aboard very comfortably, but we're both afflicted with "the middle of the night" get ups.   Think through a strategy to handle the challenge.  I'm not going to get into specifics but long time live-aboards on the hard actually add a porta-potty to their boats.    They can empty the "potty" into the real potty in the clubhouse when necessary.
E.  Will you cook aboard?  If so, have a large plastic tub (or bucket) to take your dishes to the clubhouse to wash them so as not to run dishwater water out the bottom of your boat.   Be sure to ask if using your grill is OK, the boatyard's we've stayed in don't care, but I understand some prohibit grilling aboard while on the hard.
F.  We've noticed that it's always colder (or hotter) when the boat's on the hard, than in the water.  That's because the water temperature moderates half the hull, accounting for why it's usually so comfortable.  Out on the hard, with the hull out of the water, it's definitely chillier at night than it would be in the water with the 75+ degree water heating the bottom.    Once again, that's where our electric blanket is coming in handy – nights right now are averaging mid to upper 40's which makes it a bit chilly in the mornings, but not until we're forced to get out from under the cuddly warm electric blanket!
G.  If you won't have a car, make sure you know what transportation options are available and where the closest marine supply stores and grocery store is located.  Is it within walking distance?  Does the yard have a complimentary car?  Will you need to call a taxi?  What will the charges be?  When we were in La Ceiba Shipyard, there was a little restaurant next door, but other than that, it was either a long walk or a taxi ride to other services.
Anyone else have tips for living aboard in a boatyard?  Please leave a comment and share!  Cheers!  Jan